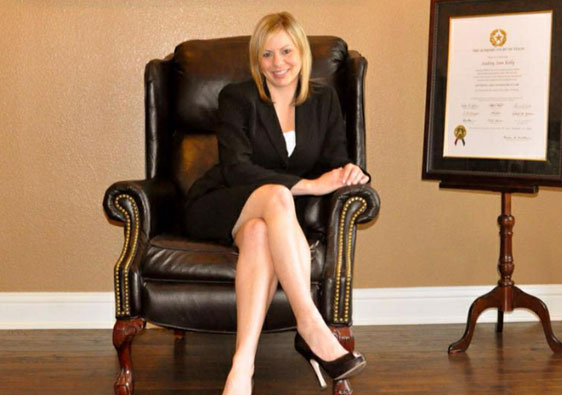 A fist in a velvet glove.
Audrey Kelly is a competitor. Her passion for law began at age 13, and by 18, was working for a criminal defense firm.
She took just three years to graduate from Southeastern Oklahoma State University and still found time to become a competitive college athlete, pounding volleyballs and smacking softballs out of the park. By 24, Audrey had her law degree from Thomas M. Cooley Law School in Lansing, Michigan.
A born and bred Texan, Audrey became a prosecutor in the Lone Star State, trying traffic cases to first degree felonies, and the road eventually lead her to Denton, Texas and a focus on Criminal Defense Law. Now a practicing partner at Jarvis & Kelly, she has developed strong contacts with influential prosecutors, judges & court staff, all for the benefit of her clients.
A defender, mother, and impassioned justice-seeker, Audrey Kelly doesn't just practice the law. She has lived it from every angle. She understands what it means to defend a person charged with a crime, its importance, its gravity, its life-altering potential. She understands the gut-wrenching worry that comes with child custody and divorce battles.
And Audrey Kelly is ready to make your fight her own.